Home &nbsp We Believe &nbsp Meet the Pastor &nbsp Photo Gallery &nbsp Directions &nbsp Contact Us
Welcome to


Hands of Praise Deaf Church

Meeting in Church For All Nations, Room C-206
111 - 112th Street East, Tacoma, WA 98445
Pastor Ken Ecker
VP: 253-444-9650

Hands of Praise Deaf Church exists to bring the gospel to the Deaf and to teach them to grow into full Christian maturity.



Schedule:
Sunday Worship Service 11:00 a.m. in room C-206
Tuesday Bible Study 6:30 - 7:30 p.m. in room C-206
Videos of recent services:
You can watch these videos in full screen by clicking on the

.
You can find a library of our past videos here.
&nbsp &nbsp &nbsp &nbsp

Recent Events: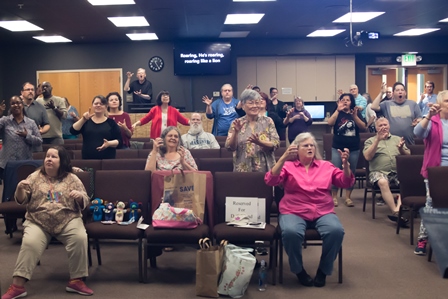 Cinco de Mayo Celebration on May 5

Coming Events:

Deaf Coffee House and Fellowship at Starbucks 1st Friday every month.
Adults Sunday School first Sunday of every month 9:00 a.m.

Sunday School second Sunday of July - July 14

Soup and Scripture discussion after church the last Sunday of every month
Deaf Ladies Bible Study Monday, July 1, 6:30-7:30 p.m.
Deaf Churches and Ministries Worship and Picnic at Bradley Lake Park, July 7, 10 a.m. - 3 p.m.
Calendar:

Click here to see a calendar for this month


Missions:

Click here to see the missions we support.


How beautiful are the hands of them that preach the gospel of peace in the language of signs, and bring glad tidings of good things to the deaf.
Based on Romans 10:15

Visit our Facebook page